First, generic but high quality amplification, (be it class D or whatever), has hit its stride and can compete with all but the highest quality and priciest high-end components.
Secondly, being what they are, audiophiles can still be suckered into believing that minor tweaks can not only make very small difference in sound but actual improvements.
---
I love the music of Dmitri Shostakovich ...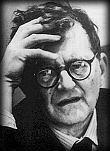 ---
This post is made possible by the generous support of people like you and our sponsors:
---