Elekit of Japan just introduced their flagship TU-873KEII tube amplifier. The amp has a rated output of 8W x 2ch (8ohm), 10Hz - 50kHz frequency response, 106dB S/N ratio, and pretty blue ring up front to compliment your glowing tubes. You can even swap out the tubes until the sound is just right. With a March production run of just 300 units you might even have it assembled in time for Summer.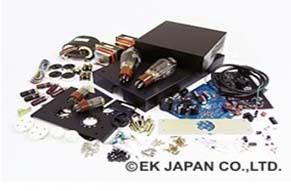 Vacuum tube 300B×2、6SN7GT×2 300B × 2,6 SN7GT × 2
Rated output 8W+8W (THD=10%, 1kHz, 8Ω) 8W +8 W (THD = 10%, 1kHz, 8 Ω load)
SN ratio 106dB (IEC, 8Ω) 106dB (IEC, 8 Ω load)
Frequency response 10Hz~50kHz (-3dB, 2W) 10Hz ~ 50kHz (-3dB, 2W output)
Input terminal LINE×2, TAPE(MD)×1 (gold-plated RCA jack) LINE × 2, TAPE (MD) × 1 (gold-plated RCA jack)
Power AC100V 50/60Hz 75W AC100V 50/60Hz 75W (3P AC Inlet)
W220 × H183 × D413 mm (including projections)
Weight 10kg
Wonderful parts inside TU-873LEII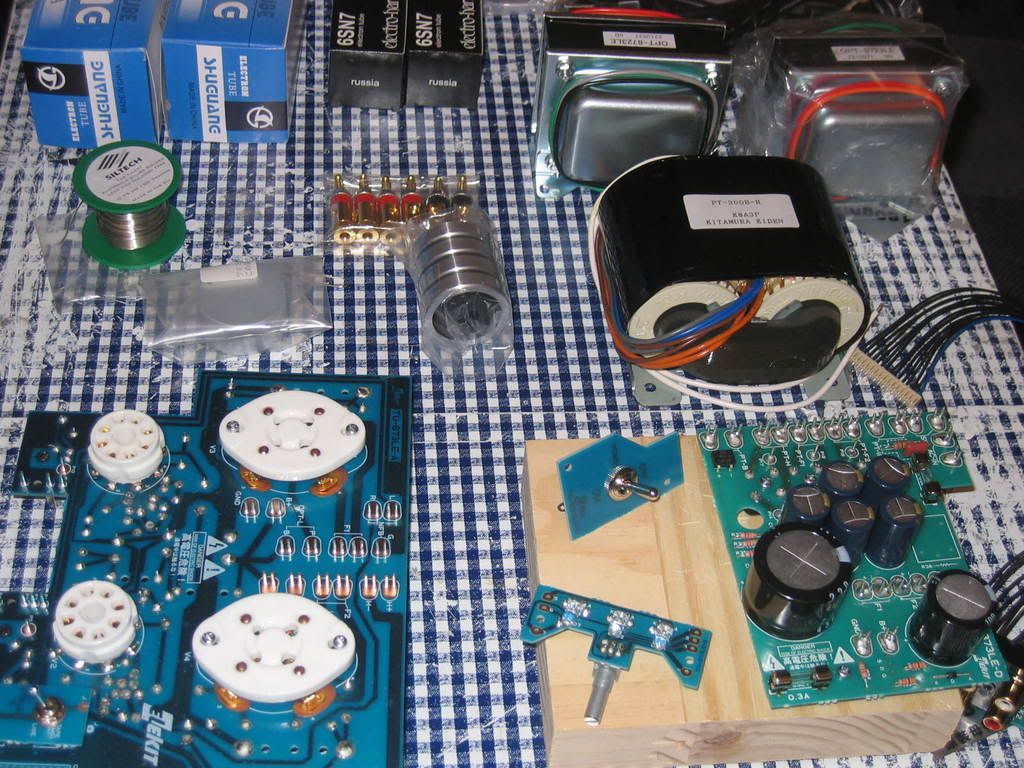 R-Core power transformer (made by KITAMURA)
The leakage flux (flux leaked out of transformer) of R-core transformer is less than 1/10 of EI transformer. The structure designed and manufactured using KITAMURA's knowledge and skill confines flux generated at both of right and left coils into the iron core and does not allow the flux to come out. As R-core does not have any cutting face, the magnetic resistance won't appear, then the characteristic of silicon steel board can be utilized to the full. Its circular cross section and the shape of core eliminate the concentration of magnetism at point angles. Therefore placing any leakage protection means at assembly process is not required.
What are the advantages of using an R-Core?
- Lower profile and smaller size.
- Lower stray EM field from the round cross-sectional area
and the balanced windings on either side.
- Lower core losses from no cuts the in core and minimized
distance between the core and the windings.
- Lower temperature rise and noise form the round
cross-sectional area and tappered slitting.
- Impressive modern appearance.
SANYO OS-CON Capacitor
What is OS-CON?
Sanyo OS-CON is an electrolytic capacitor unlike other electrolytics. While the rest uses eletrolytic solution and manganese dioxide as eletrolyte, OS-CON uses a high conductivity organic semiconductor.
What is great about using organic semiconductor?
•High conductivity (low resistance value) compared to
other electrolytes.
•High conductivity - stability against temperature.
OS-CON has almost the same construction as an
aluminium electrolytic capacitor, and the element consists
of rolled aluminium foils.
The difference between OS-CON and other aluminium electrolytics is that organic semiconductor crystal is impregnated instead of conventional electrolyte solution.
As a result, we are talking of Equivalent Series Resistance (ESR) that approaches that of film capacitors.
---
Edits: 13/09/20 13/09/20 13/10/20 90/31/00 13/10/20 13/10/20 13/10/20 13/10/20 13/10/20 13/10/20 13/10/20 13/10/20 13/10/20 13/10/20 31/01/01 31/01/01 31/01/01 31/01/01 31/01/01 31/01/01 31/01/01 31/01/01 31/01/01 13/10/20 13/11/20 13/11/20 13/11/20 13/11/20 13/11/20 13/11/20 13/11/20 13/11/20 13/11/20 13/11/20 13/11/20 13/11/20 13/12/20 13/12/20 13/12/20 13/12/20 31/22/01 31/22/01 31/22/01 31/22/01 31/22/01 31/22/01 31/22/01 13/12/20 13/12/20 13/12/20 10/10/20 10/10/20 10/10/20 10/11/20 10/11/20 10/11/20 10/11/20 10/11/20 10/11/20 10/11/20 10/11/20 10/11/20 10/12/20 10/12/20 10/12/20 10/12/20 10/12/20 10/12/20 10/12/20 10/12/20 10/21/20 10/20/20 10/20/20 10/20/20 02/08/01 02/09/01 02/09/01 10/21/20 10/21/20 10/21/20 10/21/20 10/21/20 10/21/20 10/22/20 10/22/20 10/22/20 10/22/20 10/30/20 10/30/20 10/31/20 90/30/00 90/50/00 10/30/20 03/22/01 03/22/01 03/22/01 10/08/20 10/50/20 10/50/20 10/50/20 05/10/01 05/10/01 05/10/01 05/10/01 05/10/01 05/10/01 05/10/01 05/10/01 05/10/01 05/10/01 05/10/01 05/10/01 06/07/01 06/07/01 05/18/01 05/18/01 05/25/01 60/51/10 06/07/01 06/07/01 06/07/01 06/07/01 06/07/01 06/08/01 06/12/01 06/21/01 06/21/01 06/21/01 06/21/01 06/25/01 06/25/01 06/28/01 06/28/01 07/01/01 10/70/20 10/70/20 10/83/20 10/83/20 10/83/20 10/71/20 10/71/20 10/72/20 10/72/20 10/82/20 08/23/01 10/83/20 10/83/20 10/91/20 10/91/20 10/93/20 10/93/20 11/00/20 11/00/20 11/10/20 11/10/20 11/10/20 11/10/20 11/11/20 11/11/20 11/11/20 11/21/20 15/03/20 15/05/20 15/10/20 15/10/20 15/10/20 15/10/20 15/10/20 15/10/20 16/01/20 16/02/20 16/02/20 16/07/20 11/12/20 11/12/20 11/12/20 11/12/20 11/12/20 15/01/20 15/02/20 11/12/20 11/12/20 11/12/20 11/29/01 11/29/01 11/13/20 11/20/20 11/20/20 11/22/20 11/22/20 11/22/20 11/23/20 15/01/20 15/01/20 15/01/20 15/01/20 15/01/20 50/11/01 50/12/01 50/21/01 15/01/20 15/01/20 15/01/20 15/01/20 15/01/20 15/01/20 15/01/20 15/01/20 15/01/20 15/02/20 15/02/20 17/07/20 15/02/20 15/02/20 15/02/20 15/02/20 15/02/20 15/02/20 15/02/20 15/02/20 15/02/20 15/02/20 15/02/20 50/21/01 50/21/01 51/10/01 15/03/20 15/03/20 15/03/20
---
This post is made possible by the generous support of people like you and our sponsors:
---