morricab, further our earlier discussion, and since you have more experience interpreting this sort of test result, I wonder what you make of these frequency spectra. They are the the same for the same amp, first in stereo mode, second bridged. The first especially has spurious peaks at various frequencies, though atlow-levels.
They have a quite different profile from the Nelson Pass sample result I referenced in our earlier discussion, (repeated below), and wonder what we can infer from that.
---
I love the music of Dmitri Shostakovich ...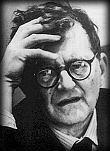 ---
This post is made possible by the generous support of people like you and our sponsors:
---