Bob" in California
____
TU-8340VK A remarkable audiophile component
I was so impressed with the quality, well considered design, and Very high quality componentry I was tempted to write a comment on the high bar set by this kit. Also impressive is the board layout, power supply design, exceptional filtering. The result of this was verified with a scope revealing truly clean power and dead accurate frequency reproduction and dynamics. The truly mature Design and exceptional execution define sophistication.
After completing the build with the very fine components supplied by Victor It was clear that this is a most remarkable audiophile component.
After 30 years of designing, building, reviewing and engineering fine audio components I guess I have become hard to impress, but very appreciative of a component which truly exceeds my expectations. The auto biasing firmware based module is brilliant, the filtering and signal path layout manifests as a very quiet, clear and powerful component that produces the most impressive reproduction I have found in any but a few tube designs costing thousands more and without the capacity for either tube rolling or convenience of auto biasing.
The TU-8340 offers the opportunity to obtain a world class amp at literally the cost of the components. Amtrans and Takman resistors at a maximum 2% tolerance, Mundorf capacitors, and hand built custom output transformers! After a build with matched components and power tubes, the auto bias testing yielded test voltages all within .02 volts (approximately .1%). I was even more impressed after installation and burn-in when at half volume I heard nothing....no hum, no buzz, no floor noise, just quiet from a beautifully designed component
The true surprise was listening to the dynamic uncolored powerful accurate reproduction of which this component is capable, remarkable. The pleasure of building this amp was only exceeded by the pleasure of listening to the final product.
This is truly one the best DIY amps you can build for a fraction of comparable products.
Thanks Victor.
Victor,
Photos attached.
Note 8340 mainboard upgraded to Alps Blue velvet, isolation pads under coupling caps.
Anthracite hammered finish on chassis.
Extremely nice.

Mundorf EVO supreme Silver Gold installed

Victor,
Attached is a picture of the bench test of the TU-8340. Calibration was perfect, the quality of the components is exceptional yielding no more than a .03 volt variation at the test points for the power tubes with a matched quad of 6CA7. Very high quality indeed!!!
Thank you!
B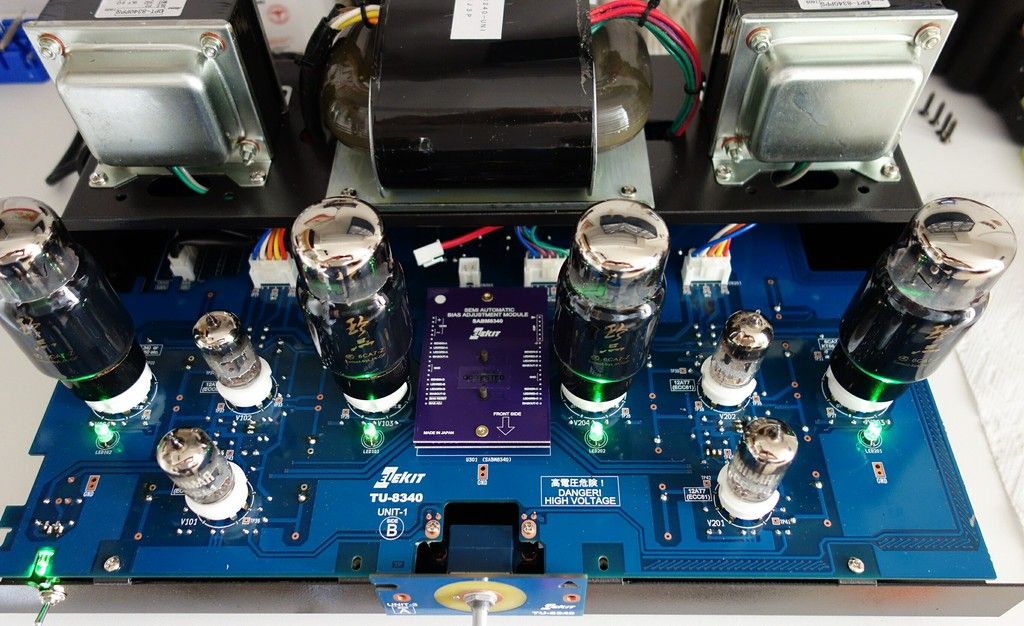 ---
Edits: 12/14/16 12/14/16 12/14/16 12/14/16 12/15/16
---
This post is made possible by the generous support of people like you and our sponsors:
---