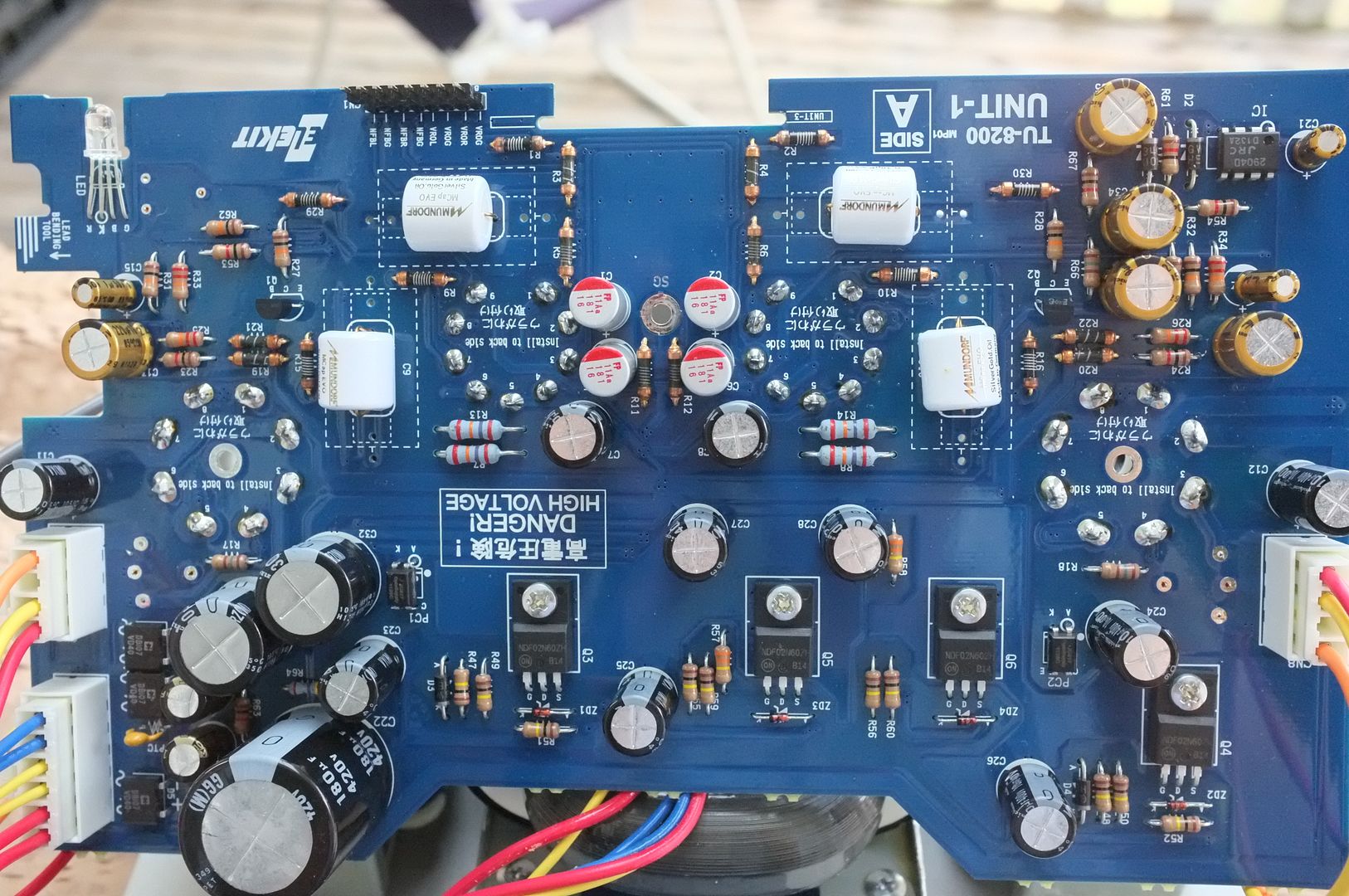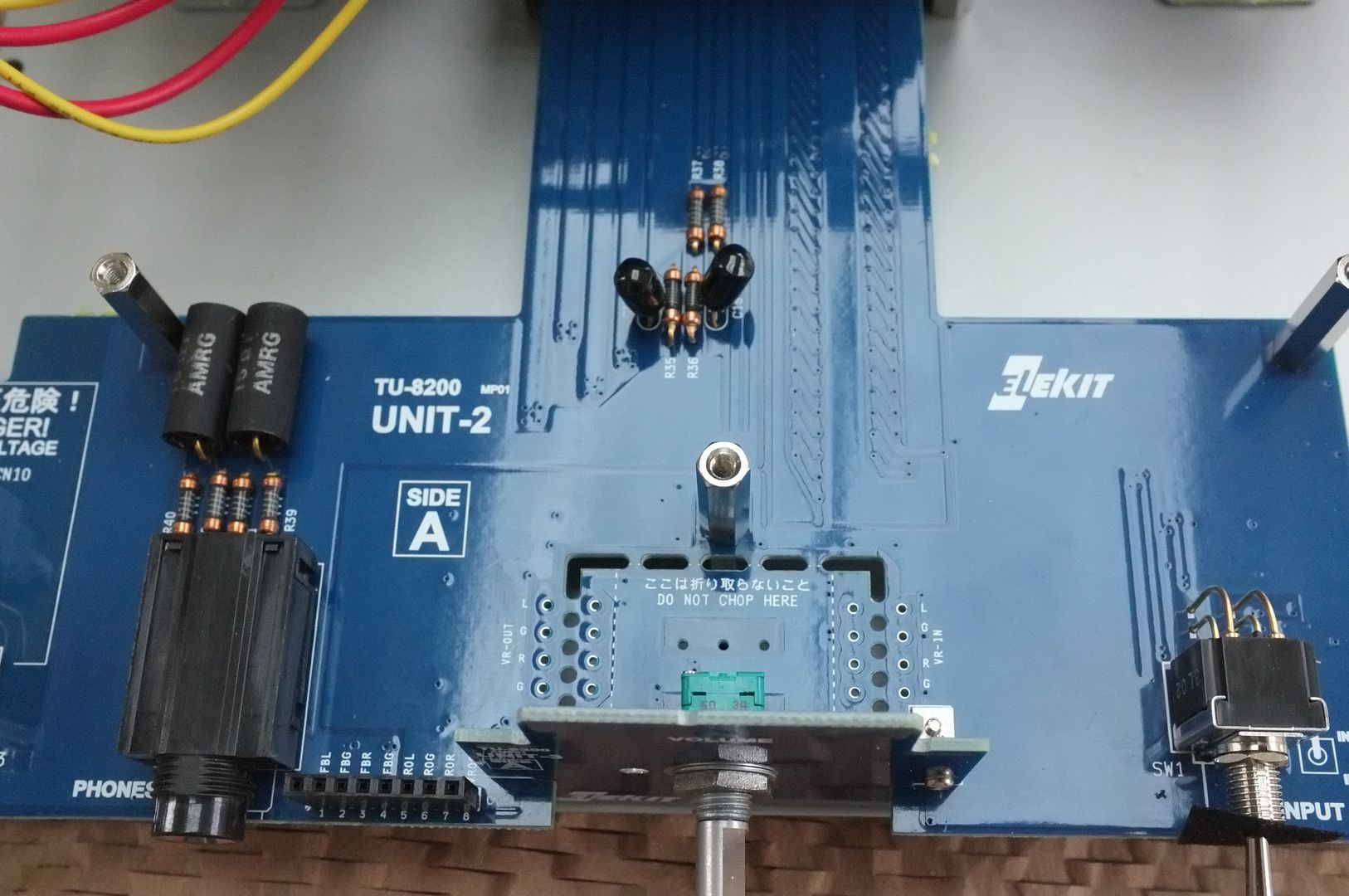 The assembled TU-8200 includes the following premium parts:
Mundorf EVO 0.1 Silver Gold Oil Aluminium Foil Capacitor X 4 or Mundorf EVO Oil Aluminium Foil Capacitor X 4
NICHICON 180uf 16V X 4
NICHICON MUSE Fine Gold FG 1uf 50V X3
NICHICON MUSE Fine Gold FG 220uf 16V X5
AMTRANS AMCH 630V 3300 pF X 2
AMTRANS AMRG 2W X 2
AMTRANS AMRG 3/4 W 22 pieces
AMTRANS AMRA 2W X4
TU-8200DX + Mcap + AMRG
Assembled : $925.00 with Amtrans AMCO coupling Caps or Mundorf EVO oil Caps
Assembled : $980.00 with Mundorf EVO 0.1 Silver Gold Oil Aluminium Foil Caps
Kit : $825.00 with Amtrans AMCO coupling caps or Mundorf EVO-oil Caps
Kit : $880.00 with Mundorf EVO 0.1 Silver Gold Oil Aluminium Foil Caps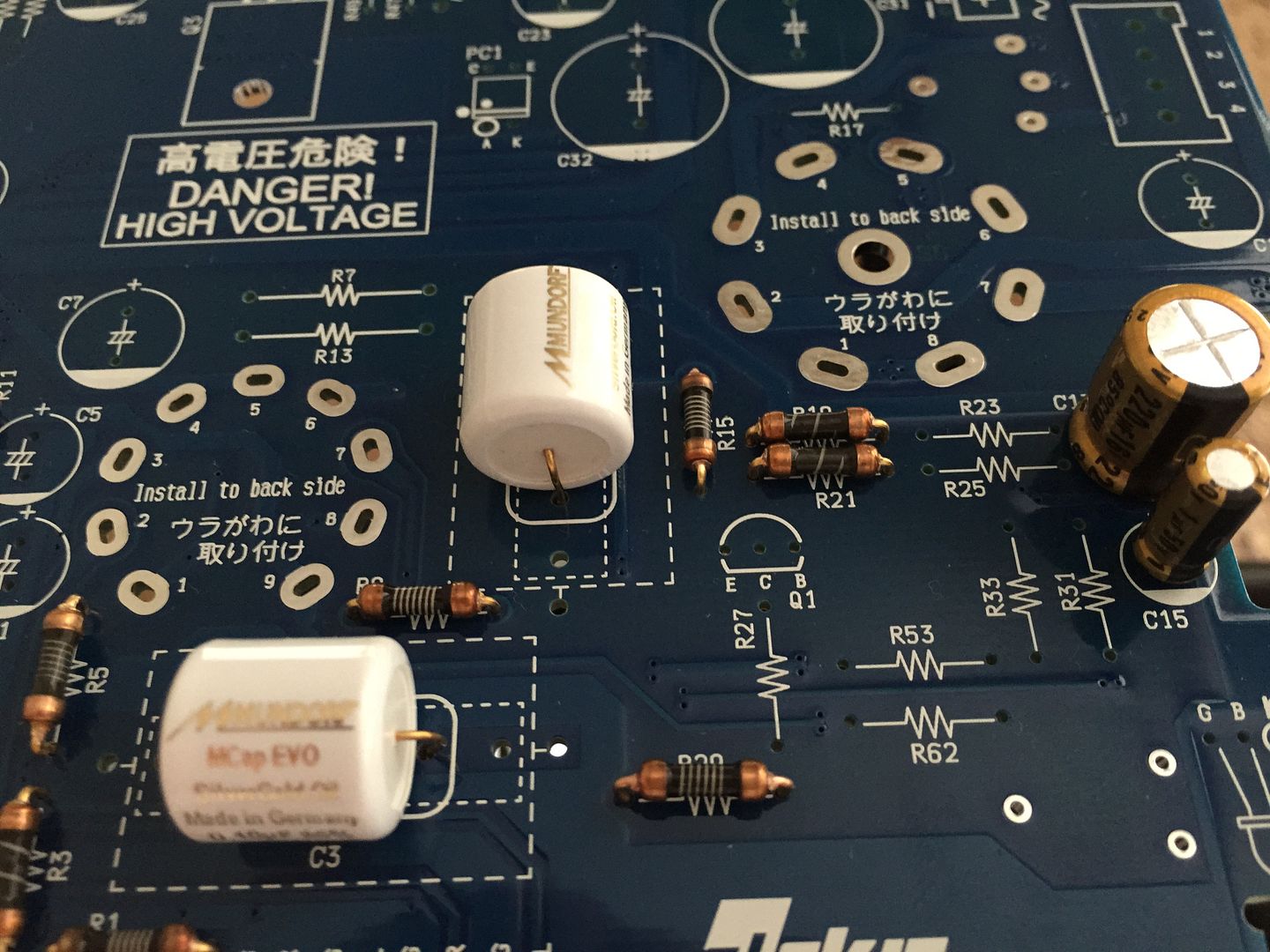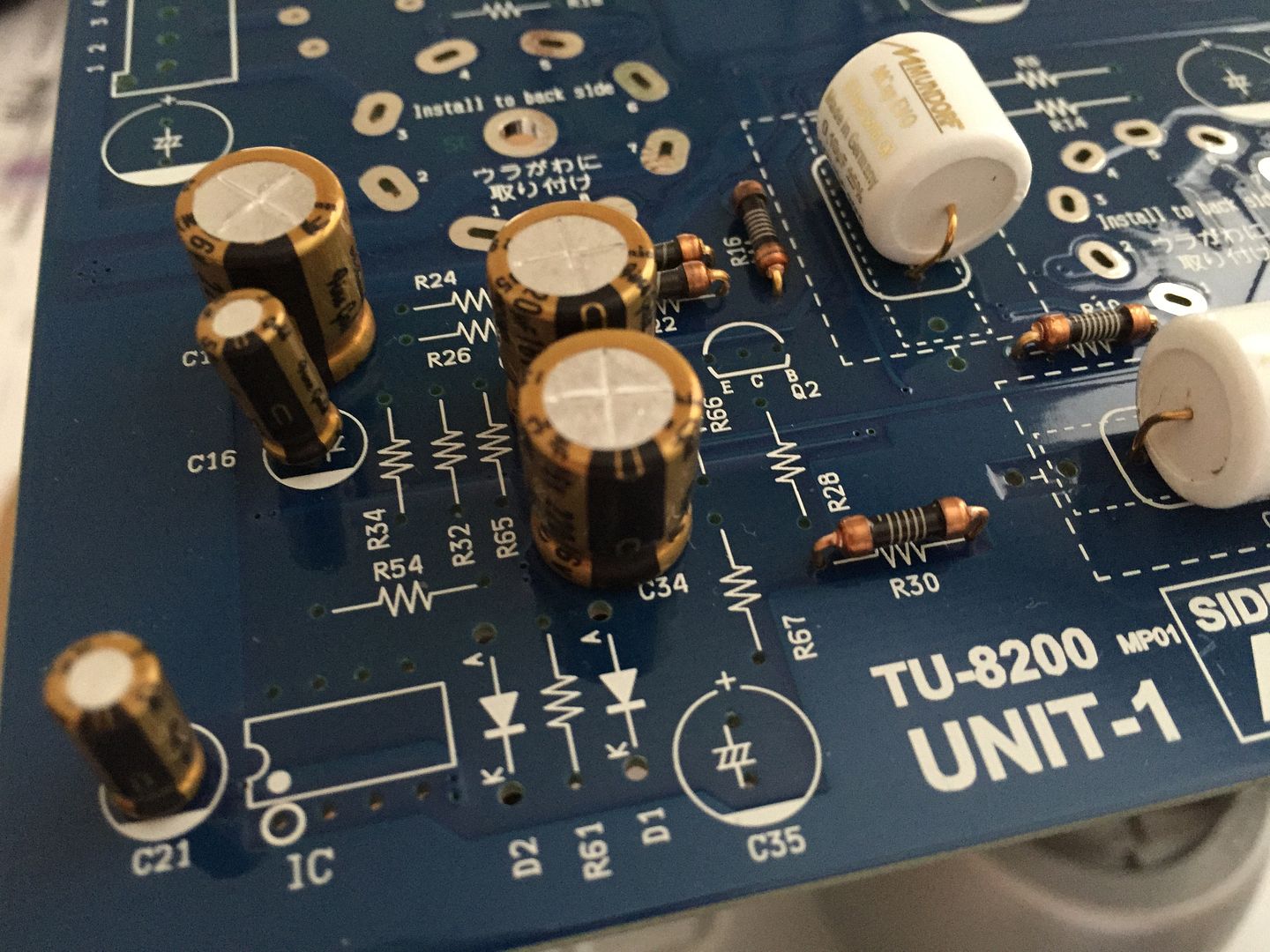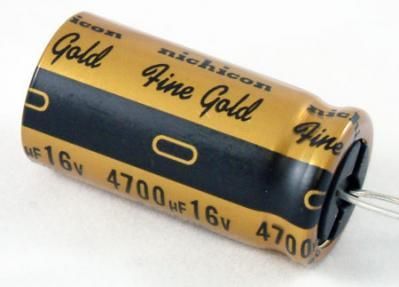 Extracted from http://www.humblehomemadehifi.com/Cap.html
Mundorf MCap EVO Oil 450VDC - 3% tolerance
Technical specifications (according to manufacturer): "The MCap EVO Oil combines the MCap EVO's sound characteristic in a perfect way with the acoustical advantages of oil impregnated capacitors. Furthermore, its additional wrapping as well as its imprint in red-metallic impart an appropriate quality look and haptic."
Sound: The compactly built Mundorf MCap EVO Oil is a big step up from the basic MCap EVO Aluminium and actually it is my personal favourite of the three EVO type's although it's more expensive brother, the EVO Silver Gold Oil, does still excel in fine, airy top-end detail. I found the MCap Evo Oil to do especially well on vocals, male and female voices come out well rendered and relatively natural sounding with a certain richness. Wind instruments (brass or wood) also sound convincing with the EVO Oil, they seem to have a natural edge to them. Image depth is another strong feature of the EVO Oil although not up to the high level of Mundorf's Supreme range. All in all the MCap EVO Oil seems to be the best overall performer of the EVO range unless you are into piano music - then the MCap EVO Silver Gold Oil scores lots of points for top-register clarity. Brighter than an Intertechnik Audyn Cap Plus that costs roughly the same but at the same time not as full sounding. I found that the EVO Oil likes to be mixed with Jantzen Audio Superior Z-Caps, the slightly bright nature of the EVO Oil blends well with the "boringly" neutral but spatious sounding Superior Z-Cap. For example when used for a large value midrange series capacitor: mixed at about one third Jantzen Audio Superior Z-Cap and two thirds Mundorf MCap EVO Oil, together they form a well-balanced rich and spatious combo at a reasonable price.
Verdict: 8,5
Mundorf MCap EVO Silver Gold Oil 450VDC - 3% tolerance
Technical specifications (according to manufacturer): "The all-new MCap EVO Silver Gold Oil unites the audible features of the MCap EVO Oil with those of a Silver Gold metallization to a breathtakingly beautiful music performance. The beauty of the MCap EVO Silver Gold Oil's music performance is only surpassed by Mundorf's top-line Supreme capacitors"
Sound: The Mundorf MCap EVO Silver Gold Oil really stands out when it comes to instrumental classical music. Especailly if you have a fetish for grand piano's you will like the MCap EVO Silver Gold Oil! The rich clarity in the range from C5 upwards is addictive, making a Yamaha Concert Grand sound very articulate and realistically bright. The overall sound is clean and airy with actually more fine detail than the Mundorf Supreme but the Supreme win's when things get complicated and loud by keeping the overview. Due to the clear nature of the EVO Silver Gold Oil sibilance is a little more pronounced than with the MCap Supreme that comes across more civilized and coherent. The MCap EVO Silver Gold Oil does need some time to burn-in and calm down. Fresh out of the box I found them rather nervous, give them at least 50 hours to mellow out. One major plus point about the MCap EVO Silver Gold Oil is it's very compact build, compared to the MCap Supreme it is only a third to a quarter of the size (depending on the capacitance value) which makes it handy if you are looking for a high quality capacitor and the available space is rather limited. The EVO Silver Gold Oil can be slightly on the "toppy" side of neutral at times, so it does mix well with capacitors that sound a little mid-range forward, like the Intertechnik Audyn Cap Plus for example.
Verdict: 9-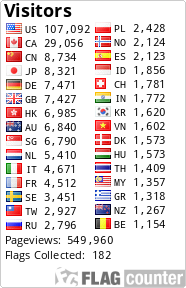 ---
Edits: 51/92/12 51/92/12 51/93/12 51/93/12 51/93/12 51/93/12 51/94/12 51/94/12 08/02/15 08/02/15 02/15/16 02/15/16
---
This post is made possible by the generous support of people like you and our sponsors:
---