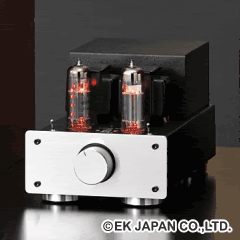 Upgrade Option (sold separately)
This set includes a tube protector to decorate and an electrolytic capacitor for bringing it up to specification. This meshed protector brings out the TU-870R design and also this prevent you from touching the vacuum tubes by accident. Electrolytic capacitor reduces 30~40% residual noise by installing it on the "OP-C" of the circuit board. (S/N ratio improved)
Features:
This is a single stereo power amplifier using the 6BM8 vacuum tube that has a five triode for power amplification and a triode for amplified voltage. Assembly is easy. Anyone can follow the printed circuit board and obtain the same result. For this reason, you do not need to know the details of wiring and other technical details to assemble a vacuum tube.
This amplifier installed with advanced "R-core transformer" as a power transformer that enables clear tone quality. To improve transient characteristics.
This set includes a tube protector to decorate and an electrolytic capacitor for bringing it up to specification.
This meshed protector brings out the TU-870R design and also this prevent you from touching the vacuum tubes by accident.
Electrolytic capacitor reduces 30~40% residual noise by installing it on the "OP-C" of the circuit board. (S/N ratio improved)
Specification:
Vacuum tube : 6BM8 x 2
Rated output : 2W + 2W(8Ω)
Rated input : 600mV
Input resistance : 45kΩ
Residual noise : 80μV(IEC WEIGHTING)
S/N ratio : 94dB(IEC WEIGHTING)
Frequency response : 26~37,000Hz
Power voltage : AC120V 50 / 60Hz
Power consumption : 35W
Dimension : W130 X H130 X D263mm (including projections)
Weight : 2.9kg
Input terminal : Line x 2 (RCA pin jack)
Fuse : 1A
The package included both the 100V & 120V R-core power transformers.
---
This post is made possible by the generous support of people like you and our sponsors:
---