It looks like class D is set to challenge all but the finest Class A, AB, and SE architectures.
Likely class D chips and/or modules will take over the mainstream and "entry level" hi=fi markets. Only top and bottom of market will stick with AB amps. The top end because by spending enough money they can better the generic Class D, and the bottom end because they would rather not pay the class D makers their fees.
Working with chips rather than modules higher-end aspirants can claim more customization and tweaking and thereby ask higher prices.
---
I love the music of Dmitri Shostakovich ...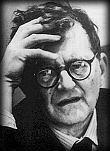 ---
This post is made possible by the generous support of people like you and our sponsors:
---