Posted by JoeRB on June 25, 2012 at 17:35:18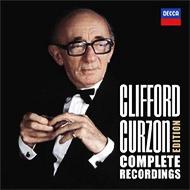 Curzon / The Complete Decca's recording (23CD +1 DVD)
Release Date : 31 Jul 2012

Produced internal pianist inspirational music
British pianist Clifford Curzon. Masonry in the original study of Schnabel, since a great success in the United States debut in 1939, the evaluation of in Europe and the United States increases dramatically, life was revered like a God. You hated house for recording, recording, and the few remaining valuable treasure one by one.
Schnabel as well as teacher, good at the work of German descent = Austria Mozart, Beethoven, Schubert, and Brahms, with the support was overwhelming due to its transparent sound and dignified music. You can be realized only let me listen to artists Brahms, Schubert in the other albums, knows every corner of the work up to, pursue the ideal of the best, the music sounds deep into the heart.

---
Follow Ups:



---

'); } else { document.writeln(''); } } else { document.writeln(''); } } else { document.writeln(''); } } // End -->

Post a Followup: