I just found a spec sheet that provides the minimum and maximum modulated groove diameters for a 7" disc. You can find it at the following link:
RIAA Dimensional Standards for Phonograph Records
The minimum and maximum groove diameters for a 7" disc translate into the following groove radii:
Innermost Groove Radius = 53.975-mm
Outermost Groove Radius = 84.1375-mm
The following Null-Point radii will provide the lowest tracking error distortion for a 7" disc:
Inner Null Radius = 56.97-mm
Outer Null Radius = 77.77-mm
The optimum null-point radii for any size phonograph record are based on its modulated groove envelope. You need to know the radius of the innermost modulated groove, r1, and the radius of the outermost modulated groove, r2. Then you can apply the following equations to find the null-point radii that will provide the lowest possible tracking error distortion within that modulated groove envelope.
Good luck,
John Elison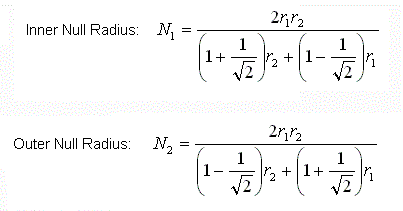 ---
Edits: 07/05/17
---
This post is made possible by the generous support of people like you and our sponsors:
---