Fortunately it is low level and I am generally able to ignore it. In fact it is perhaps a bit worse than it was a couple of decades ago but I am better able to ignore it.
I suspect it was caused by unwisely shooting without ear protection back when I was about 20 y/o.
---
I love the music of Dmitri Shostakovich ...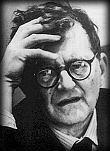 ---
This post is made possible by the generous support of people like you and our sponsors:
---