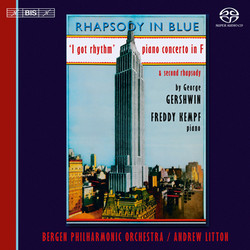 Just now avaiable at eclassical.com is the new BIS Gershwin/Litton/kempf release that includes the Rhapsody in Blue (original Jazz version), Concerto in F, Second Rhapsody, and the I Got Rhythm Variations. The 24/96 download is slightly over $11.

First, I'm really looking forward to comparing this download to the SACD when it comes out. I do have several BIS SACDs and downloads, but they're not 24/96. I did a quick listen at lunch and came away pleased, but also perplexed. This release seems to be different than the usual BIS sound. It is quite bright and up-front; very in-your-face jazzy. It is crystal clear and very dynamic. The piano playing is not over-the-top, but in the Rhapsody in Blue, at least, the woodwinds and brass have a field day. I especially enjoyed the clarinet, and not just in the opening solo.

I would like to hear from others who download this disc as to their reactions to the sound and the performance.

---
Follow Ups:
RE: New BIS 24/96 Download -- Gershwin/Litton/Kempf - Russell 10:32:18 06/13/12 (1)

Since the original recording was done in 24/96, the SACD in theory shouldn't sound better, as the original file would had to have been converted to DSD for the SACD. (I'm talking stereo, of course--MCH is another matter.)

I saw this on eClassical yesterday (prior to getting their e-mail announcement) and was curious about it, but ultimately decided against downloading it. Your and Chris's posts have changed my mind!

Russell


---

RE: New BIS 24/96 Download -- Gershwin/Litton/Kempf - srl1 10:48:05 06/13/12 (0)

I agree that they should sound the same. What I'm trying to determine is whether or not there is a difference in the delivery systems that I use. I have an Oppo BDP-95, and I can play this release as a 24/96 file either from an attached disc drive or over the Wi-Fi from my PC with the Oppo doing the D/A (and FLAC) conversion (I also can convert the files to WAV so the Oppo doesn't have to do the conversion; some folks say that sounds better). Finally, I can create a DVD-A disc using software on my PC and then play the disc on the Oppo. So far with this release I think the DVD-A sounds best.

When I get the SACD, I'll compare it with the download version (in several of its formats). No matter what, the performances and the sound on this disc are excellent and exciting.




---

Your wish is my command - Chris from Lafayette 14:48:50 06/12/12 (0)

I just downloaded the files - 11 bucks is not too shabby for hi-rez, although I wish they'd start making multi-channel hi-rez downloads of these recordings available on eClassical.

Converting the FLAC's to AIFF's right now. If you don't mind, I'm going to post my impressions over on the Music forum here, in order not to offend the sensibilities of those who object to using an SACD forum to discuss the virtues of (gasp!) PCM!


---

Edits:

06/12/12




---

'); } else { document.writeln(''); } } else { document.writeln(''); } } else { document.writeln(''); } } // End -->

Post a Followup: