My copy showed up last week. I wasn't particularly expecting much out of the performance but more curious about current DG record production. On the record, it's indicated manufactured and marketed by DG and Decca Classics, US ( division of Universal Music Group Recordings ).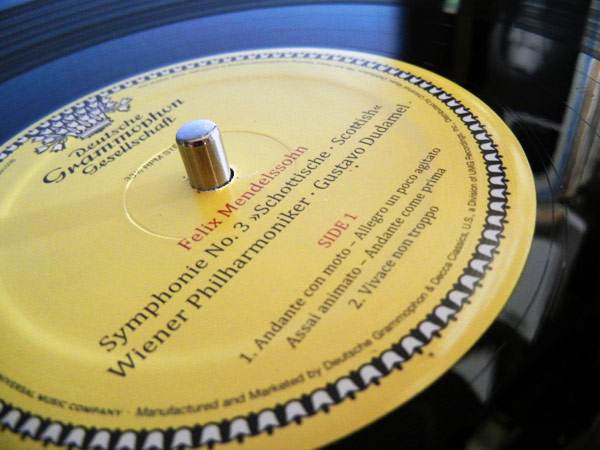 Nice that they brought back the large tulip rim on the label albeit record catalogue numbers and the nice *gold* & blue accents are gone. For Thorens or Phonosophie table owners, the spindle hole needs to be enlarged as the diameter is too small to accommodate this record.

Here's the original DGG tulip label design from '55 pressing for comparison. Wearing a pedantic hat, this is a better graphic design and typography. A 57 year old record looking better than current one! As far as the packaging goes, nothing classier than the original DG letter press folder with hand-stitched style inner.

On to the sound & performance.

I haven't listened to too many No.3 but my favourite Scottish is Maag/LSO ('60 version ). All I have is a STS reissue (STS 15091 )

Dudamel's is probably a digital recording so the noise floor is extremely low and generally very quiet record surface all the way through. There was no serious production flaw on my copy and pretty much sounding similar to later DG digital pressings. i.e. neutral balance, clean and tidy presentaitonn with no apparent distortion. Massed strings are thin but there is no peaky congestions. Brass also stays civilised. So I guess the sound quality of current DG is just 'ok'. Not bad, but not what I call 'outstanding'.

London pressing sounds much warmer and inviting and spacious. Better dynamic contrast, too.

Performance wise, compared to Magg's, I felt that Dudamel's set does not have the same level of sophistication or expressiveness. The whole performance is dynamically complaisant and a bit of 'sameness' going on. Each instruments have no colour or expressions. Particularly the fiddle section has no feelings/textures. The first half is pretty enough, reading more like an epic soundtrack ( Maurice Jarre-esq), but the second half just have no drama nor build up with no texture or interests to the finale. It all ended up sounding like a big puréed soup. Comparatively, Maag's soup has more chunks left in the soup to chew on.

Very odd finale as Dudamel slightly hesitates at the end. Not sure what's that about either making the ending rather anti-climactic.
I'm glad that I didn't pay much for the copy ( 20$ shipped using B&N coupons) and still curious of what those new Clearaudio DG reissues are like but those are dearer at 50$ per record.


---
Edits: 05/24/12
---
This post is made possible by the generous support of people like you and our sponsors:
---